Guest lecture on Big data under faculty exchange program.(19/10/2020)
Guest lecture on communication skill under faculty exchange program.(27/10/2020)
Inauguration and conduction of certificate course for T.Y.B.Sc CS.(09/10/2020) Course started from 26/10/2020 to 11/11/2020
Parent Teacher Meeting (19/10/2020)
National Webinar on IPR (31/10/2020)
Alumni meeting (07/11/2020)
PI day celebration.(22/07/2020)
Pi-Approximation Day
Date: 22/07/2020
Pi-Approximation day was celebrated on 22nd July 2020 by conducting a lecture on importance of pi in Mathematics and online aptitude test. About 114 students participated.
National Webinar on Intellectual Property Right (IPR)
Date: 31/10/2020
Resource person for webinar is Mr. Manish Bhangale , In House IP counsel , ITC Life Science And Technology Centre ,Bangalore. The purpose of the webinar is to understand copyrights, trademarks, registered designs and trade secrets, etc.
Parent-Teacher Meet (PTM)
Date:  31/10/2020
An online Parent Teacher meeting was organized on 19TH October 2020 at 11:00am. The purpose of the parent/teacher meeting is to clearly communicate the student's progress in college.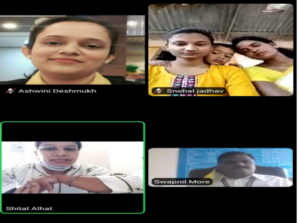 Guest lecture on Big data under faculty exchange program
Date:  19/10/2020
Guest lecture on Big data was organized on 19thOctober 2020 at 11:00am. The purpose of the lecture is to afford opportunities and The concept related to Big data .It is very latest technology which is use in software industries now a days .
Alumni Meeting
Date:  07/11/2020
The purpose of Alumni meet is to encourage the Alumni members to take active interest in the activities and the progress of the college matter. To Promote and encourage friendly elation among all the members of association. To promote career guidance, interaction with industry and continuing education.
Add-On/Certificate Course
Date: 28/10/2020 to 11/11/2020
Department Of Computer Science organized Certification Course on Python for T.Y.B.Sc(CS) And M.Sc(CS) students from 27th oct 2020 to 11th Nov 2020 . It will help the students to get extra knowledge other than syllabus and also get different opportunities in Software Companies.
Techno-Fest
Date: 2nd and 3rdAugust, 2019
The program conducted by dept. of computer science on 2 nd and 3rd August 2019.Various activities conducted under this program such as Blind Bee Game ,Poster competition ,Techno Rangoli competition ,cooking ,Mehandi ,Best out of Waste competition.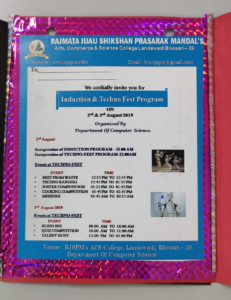 Alumni Meet
Date: 31stAugust 2019
Department of computer science organised Alumni meet on 31 st august 2019.Many alumni shares their views ,suggestions . Alumni also shows their willingness for guest lectures for current students .
Parent-Teacher Meeting
Date:  12thDecember 2019
Parent Teacher meeting was organized on 12 th December 2019 at 11:00am by Dept of computer science Parent-teacher meeting provides a direct form of communication between the parents and teachers. The meeting offers the chance to build a partnership between the college and the student's families. Around 58 parents attended meeting.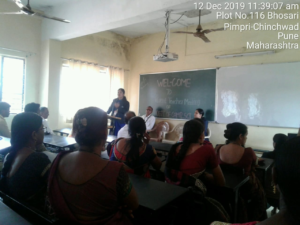 Mathematics Day
Date: 23rd December 2019
Mathematics day is celebrated by department of computer science on 23rd December 2019. Aptitude test and quiz competition was on the this occasion.
ADD-ON course On Software Testing and Soft skill Developments
Department has organised 120 Hrs ADD-ON course On Software Testing and Soft skill Development for the Students of T.Y.B.Sc CS.